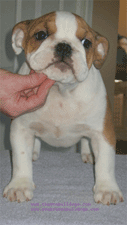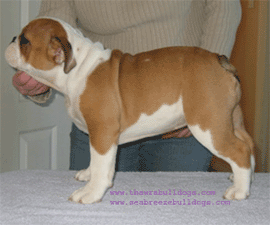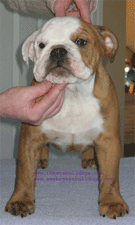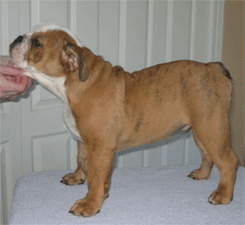 Patty, also known as Patty Cakes,  was our pick of the litter and is absolutly stunning. Unfortunately she is not growing and will be to small for competition. We held on to her for as long as we could until it was obvious that she will be a tiny ball of love.

Patty is a sweet little girl with a bratty side. She loves to cuddle and be with us and could spend all day on our lap. But give her some free time and she will be exploring and "talking" to you.

Available Puppies

Please call Susan Mason Telephone : 819 340-0210

Born Feb. 4 2008

Sire : Untouchabull's Standing Ovation (Amstel)

Dam : Ch. Seabreeze Jazzy Girl (Jasmyne)

Patch is a full brother to Patty Cakes. He is also a stunning young dog. But out of respect for our dogs we limit how many we keep to make sure everybody is treated above and before all as our pets.

Patch is super intelligent and catches on fast. He is also active and an all around happy guy. He would be very spoiled if his new family wanted to do obedience and agility with him. Otherwise, he loves to just sit there and soak in all love and attention.